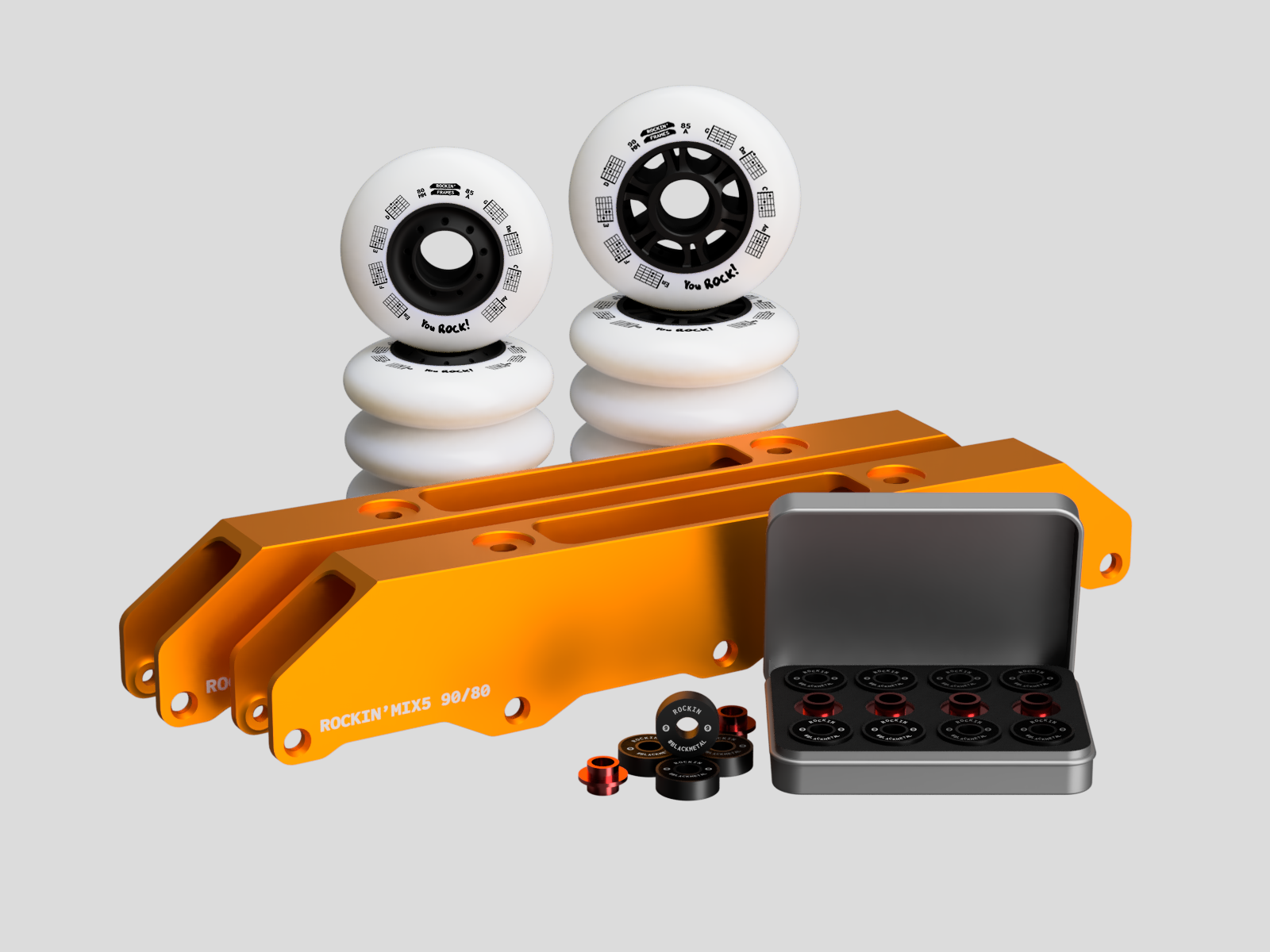 Hello, bladies and bladers! Great news about something many of you have been waiting for!
Recently we have announced Rockin' Wheels (which will be sold both in sets and individually) and Rockin' Bearings, but that's not all. We will also be selling them along with our frames as frame bundles.
What is a frame bundle?
A frame bundle a ready-to-skate set that includes the frame itself (in its original packaging with all the regular package contents) plus the corresponding number of wheels of the required size(s) and the corresponding number of bearings / spacers (in their original packaging).
For example, the MIX4 100/90 frame bundle will include:
1 pair of ROCKIN'MIX4 100/90 Frames
8 Steel axles
8 Mounting washers
16 ROCKIN' Bearings
8 UFO type aluminum spacers
4 ROCKIN' Wheels 100mm/85A
4 ROCKIN' Wheels 90mm/85A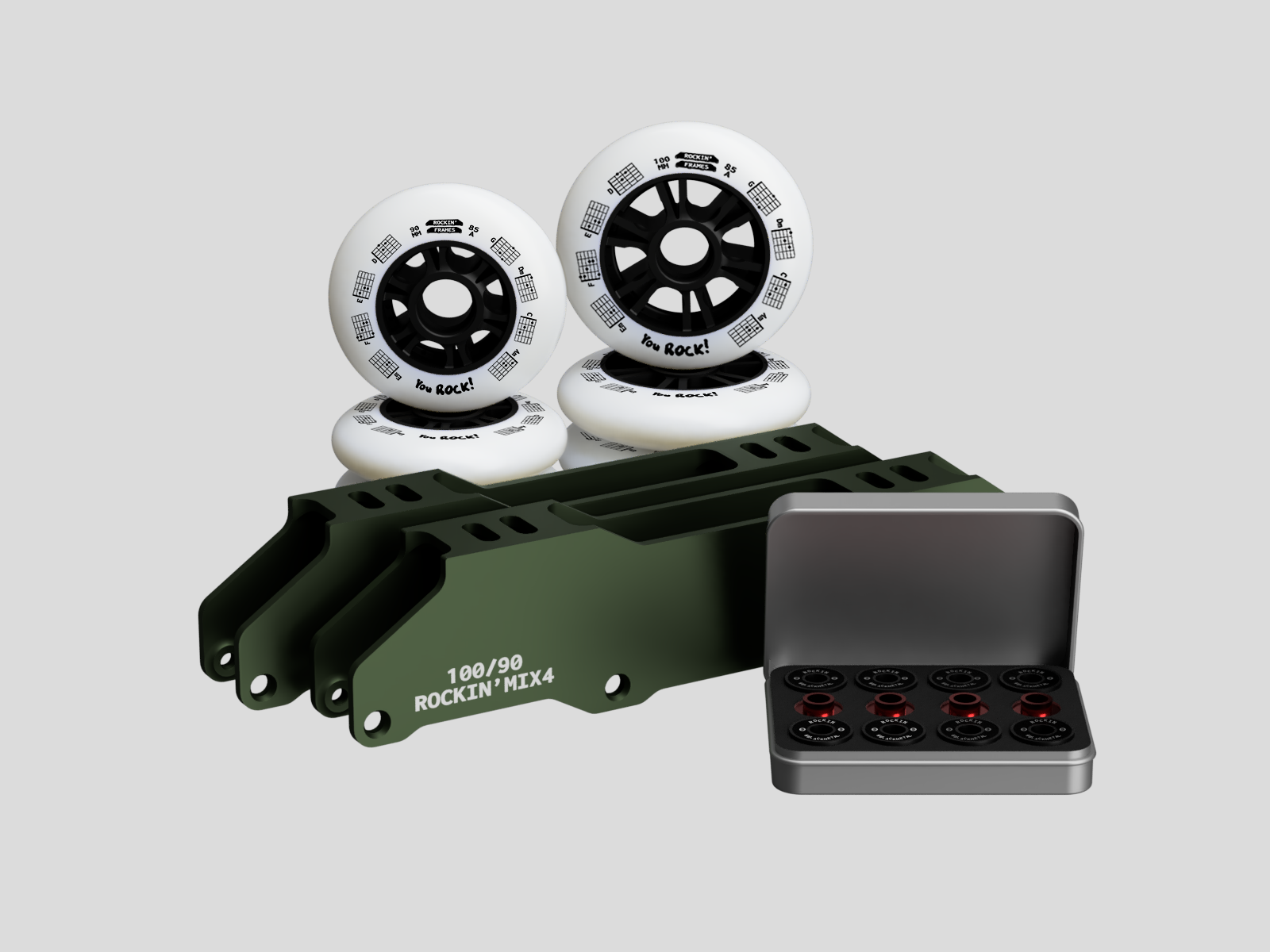 The wheels come separately from bearings and spacers, however you can drop us a message at checkout and we will gladly press the bearings and spacers into the wheels with our professional BONT bearing press.
Please note: the bundle will be shipped as soon as all of the bundle components are in stock.
Please note: the bundle is bought as a single unit. In the event of a return all the components of the bundle should be returned in order for you to get a refund. We don't accept returns of separate bundle items.
Please also note: many of our frame models are soon to be out of stock, so at the moment the offer is limited for all the frames except ROCKIN' 4100 and ROCKIN'MIX4 100/90 (as we've got more of those in stock). If the frame you are looking for is out of stock in our shop, please check out the Bladeville Skateshop. Their stock may differ from ours. The next batch of ROCKIN' FRAMES is expected to be available in September.
Bundle pricing
Ordering all the pieces in one place allows you to save quite a bit of money on shipping. It also saves you time that you would otherwise have spent looking for separate components online. In addition to that, we will be applying a permanent 10% discount on our wheels and bearings when bought together with a frame as a bundle (discount doesn't apply if items are added to cart separately). We think that a bundle discount is a nice gift for those who choose to benefit from all of our products. Sounds good, right? But that's not all.
Further discounts
We will soon be opening pre-orders on our wheels and bearings with a 10% early bird discount. That will allow those who have bought their Rockin' Frames earlier to get the full Rockin' Frames set at a friendly price. This early bird discount will last for a few weeks only, so don't miss out.
Conclusion
Our conclusion: Don't miss the sale!
All further conclusions are up to you 🙂
Availablility
The Rockin' Wheels, Bearings and ROCKIN' Frame bundles will be available for pre-order in our shop later this week.

Have a nice week and keep on rockin'!
– Jevgeny and Anastasia