Rocker
What is a "flat setup"?
A flat setup is the most common setup used on inline skates. Almost all non-aggressive inline skates are sold with a flat wheel setup. Flat means that all the wheels touch the ground at the same time when resting on flat ground. Flat setups are not the most maneuverable but what they lack in maneuverability they make up for in speed. These setups tend to be the fastest setups, compared to setups such as the Hi-Lo or anti-rocker. The presence of two middle wheels matching the diametrical size of the rest increases contact points with any surface. They also minimize the rate at which the skater's loading weight deforms the wheels. This minimizes the wheel's footprint thereby minimizing rolling resistance. Speed skaters and marathon skaters normally use flat setups.

What is a "rockered frame"?
A rockered frame means: Some of the wheels are 'raised'. Usually, for 4-wheel setups that would be 1st and 4th wheel. As a result, only 2 wheels touch the ground at the same time. The distance between these wheels is called effective wheelbase and it's measured in millimeters. For example, for a 4×80 rockered frame the effective wheelbase equals 80mm + the space between the wheels (usually, 1mm) = 81mm.
What is a "full rocker"?
Full rockered frames are used by skaters who favor maneuverability when skating on flat ground. Freestyle skaters, freestyle slalom skaters and artistic inline skaters tend to use this setup. Inline hockey players no less can customize their wheels to implement this setup. This setup is usually called "banana" because it is curved, and mimics a curved ice blade profile. On flat ground this setup will only have 1–2 wheels touching the ground at any one time. This makes the skate much easier to pivot but lacks stability so it is harder to balance on. In addition, a full rocker is slower than a flat setup in terms of top speed. Worst of all at high speeds, skates with a full rocker setup can experience a speed wobble, where they oscillate uncontrollably. The skater may lose control and crash to the ground.

4 Wheel Frames (Natural rocker)
ROCKIN' Frames 'Natural rocker' is different from the above mentioned Banana rocker. Flat setups generally wear into a 'natural' rocker. This is because the front and back wheels seem to receive the vast majority of wear on inline skates. The word 'Natural' means here that frames with flat setup would develop the same rocker after a few sessions of use without wheel rotation. This rocker is formed naturally, and our rocker mimics it. Our 4-wheel rockered frames have only a slight raise on the first and fourth wheels (the first one is raised slightly more than 1mm and the fourth one is raised slightly less than 1mm), which makes the frames agile and yet keeps them stable.
Our 4-wheel rockered frames have 3 positions depending on the area where the skater puts their weight. In each position only 2 wheels are in contact with the ground. Here are the graphs of how that works: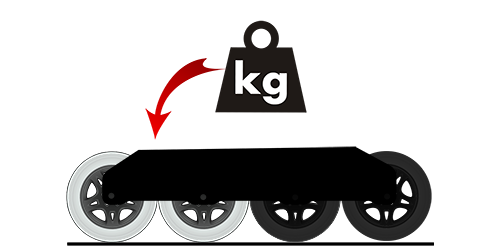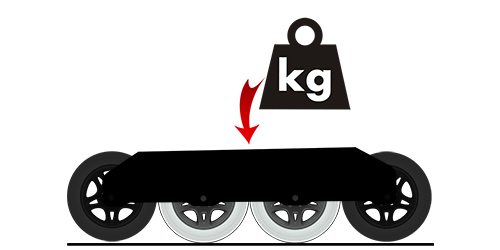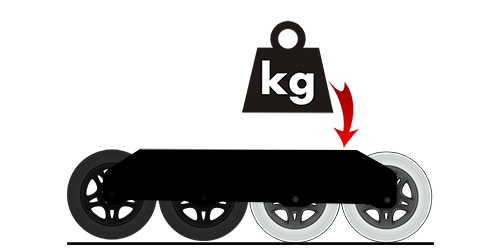 5 Wheel Frames (Art rocker)
Our 5-wheel rockered frames, however, have a different rocker. That rocker's specifications might be described as follows: 1st and 5th wheels are raised for more than 1mm and less than 2mm. The 2nd and 4th wheels are raised just slightly, less than 1mm. The 3rd wheel isn't raised. We called our rocker "ART rocker" because it is perfect for artistic skating and we recommend using our 5-wheeled frames mostly for that purpose. This rocker keeps the frame very agile, yet stable. As you skate artistically, you will notice the wheels don't "bite" the pavement, but permit a great deal of control.
Our 5-wheel frames have 4 positions depending on the area where the skater puts their weight. In each position only 2 wheels are in contact with the ground. Here are the graphs of how that works: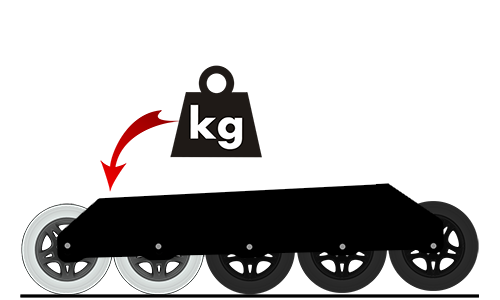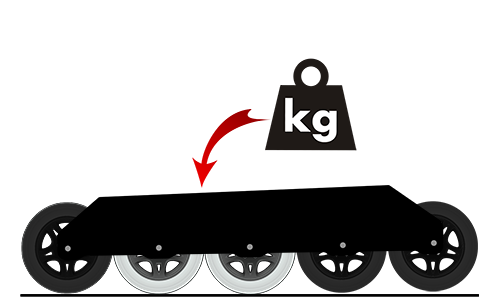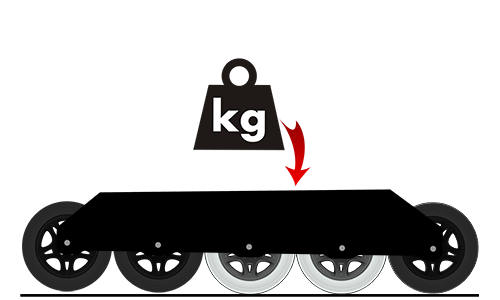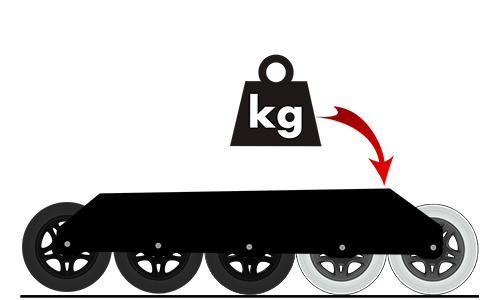 This rocker allows for many positions and just the right rise of the wheels gives our frames flow and unconstrained movement.
Information has been partly taken from: https://en.wikipedia.org/wiki/Inline_skates#Flat_Setup