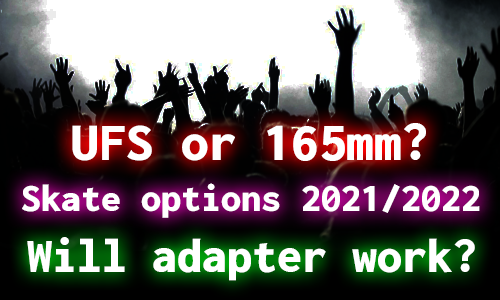 Hello, bladies and gents.
We have some thoughts to share with you. Hopefully, they will be useful to everyone, not just our current or future customers.
We will talk about:
– Why should I get UFS over 165mm? Do I have to?
– Available UFS boot options (cons and pros)
– Upcoming UFS boots
– Rockin' Frames and 165mm skates
So let's begin. You might be wondering if you should get UFS boots or go with the majority and get 165mm skates instead.
If you go down the 165mm path, you will see that the market is full of various brands and countless models for any preference. Seems like the obvious choice, doesn't it?
While the UFS skate market seems to be quite limited, especially when it comes to big wheels.
And this is what we actually want to talk about.
UFS or 165mm?
But first, we should mention why one might choose UFS over 165mm.
As a skater you are surely going to be practising, learning new skills and tricks and getting better and better. Soon enough the moves that have seemed impossible before will start to come naturally to you.
You will become flowy. Some people hit what used to be their dream level of skating pretty quickly and then they find themselves not knowing what to do next.
But, there is always huge space for improvement and new things to learn. One of the ways to go for that is a skatepark.
On one hand, you can enjoy time at a skatepark on any kind of skate. But when it comes to grinds (some of which are very easy to learn), one definetely needs to have soulplates on.
So here is the thing: UFS boots give you access to both worlds, Freeskating and Aggressive skating.
We have met many people who had never even dreamt of aggressive skating or going to skateparks before, but after acquiring a certain level of skill they ended up doing precisely that.
And once you have spent some time at a skatepark working on new skills it becomes a sandbox of sorts. The more one practices, the more fun it becomes and the more obstacles one masters.
So, after a certain period of time one may want to experiment with some ledges and rails / coppings. And this is where UFS boots with soulplates come in handy.
One can simply take the big wheel frame off, mount the soulplate and the aggressive frame onto the boot and be ready to shred without the need of buying an extra pair of skates.
And another thing: most of the UFS boot designs do allow you to stand closer to the ground than on 165mm skates which adds stability to your ride.
Present UFS Boots
Some of you might be wondering, which skates exactly fit that "both worlds" bill. Let's talk about your options.
Below we will list some skate models that have been on the market for years now (some might be out of stock though).
What you are looking for are skates/boots that have a powerstrap (45 degree buckle), since you need that extra ankle support for big wheels.
Please excuse us if we have missed any models that should be on this list.
1) SEBA
SEBA offers several skates for both worlds.
Although they were mainly designed for aggressive skating, SEBA CJ and SX have become iconic skates for Wizardskating.
The SX model has been discontinued, but one still can get used ones. They come in plastic or carbon shells.
The CJ model is the model that has replaced SX. It has various options including carbon and plastic, linerless or with a built-in liner.
There is also the Wizard Boot (when in stock), with the Wizard Intuition liner. This boot is super stiff and performs superbly. Needless to say, it fits perfectly in this category.
2) ROLLERBLADE
Let's start with the older models: Solo and Fusion. These models have been discontinued, but one can still find them on the secondary market. These skates do their job as both aggressive and big wheel skates.
They only come in plastic versions. Both have power straps and removable liners.
Rollerblade NJ would also work, but it seems to have been discontinued as well.
3) USD
USD offers a variety of models, but we will only list a few of them that have a power strap:
USD Sway (Either Montre Livingston or Chris Farmer edition).
Both have been sold out worldwide, but if you do manage to get your hands on some, that will be great. They will do just fine and the prices are also very friendly.
4) ADAPT
We couldn't have gone without mentioning Adapt skates.
Their Rivale (discontinued) and Brutale models with a power strap will do fine. There is not much to say about them. They belong in this category. Oh, and they are customizable so their colours can match the colours of Rockin' Frames 😉
5) RAZORS
Razors have various models, but the COSMO ones are good for both worlds because of the power strap they have. Also, the Instant frame changing system (IFC) is a very cool thing to have.
These skates are quite flexible but they will still work for smaller big wheels (4×90, 5×76, 580).
6) K2
K2 have their Uptown model. Basically, it is a big wheel UFS skate that fits into our category.
Also, if you see K2 Unnatural anywhere = grab it (discontinued). Awesome skate to have.
7) SALOMON
Salomon did make quite many models. Some did love them, some did hate. Still worth mentioning, that many skaters 20 years later still describe their boots as the most awesome boots that were ever made. Discontinued.
Future UFS boots
Now, many of these models might be unavailable, sold out and/or discontinued. Some of them might not fit your budget or not be suitable for you for some other reason.
So, here is something new to consider:
Even though you may be following blading news and other kinds of updates from skating brands, some of you could have missed the new stuff that is coming our way.
1) SEBA
Seba is getting a re-stock for their CJ model this August / September. Check your local stores, don't miss it!
2) FR UFS
Yes, FR is releasing their (first?) UFS boot.
It has a 45-degree strap, and that is all we know right now, but these boots have been tested for quite a while now and are about to hit the market.
3) IQON
IQON had already brought much new stuff to the market this year, and now they are also giving us various UFS skates.
As far as we know they will have 3 variations of the UFS boots and several of them will fit perfectly in the "both worlds" category.
We don't have any more detailed information, but they are coming soon.
4) MICRO
Yes, Micro are also releasing their own UFS boot.
Not much is known about it at this point, but you can check Ricardo Lino's channels for more information.
Ricardo has made a video presentation of our frame for Portuguese-speaking skaters and has mentioned that they were working on a UFS big wheels skate.
It's just something to consider.
5) ROLLERBLADE
Rollerblade again.
Rollerblade are releasing a new Blank model in 2022, which is basically Fusion / Solo shells re-designed.
6) KALTIK
Kaltik has made a small spoiler about the UFS boots they are about to release. We don't have much information on this one.
As you can see, many things have happened in the UFS world in 2021, and it is about to get even more interesting in 2022.
Conclusion?
So, what kind of conclusion do we draw from all of this? Go grab some UFS skates, goddammit! 😀
But even if you don't, that's OK, because our frames come with a 165mm adapter.
So if you are not planning on buying UFS boots anytime soon, you can still enjoy our frames right away.
Warning: Our adapters go with 3 sets of M8 and M6 screws! But some of FR Skate and SEBA 165mm models do use 5/16″ thread instead of M8. In fact, FR1 skates do come with M8 screws and some do come with 5/16″ bolts. So please be aware of this fact. We are trying to solve this issue and are already in contact with FR / SEBA to get more information about this.
Also, some of SEBA / FR Skates might not be compatible with UFS (even with adapters) because of the mounting hole placement. This means some of SEBA / FR Skate models won't be centered on the frames using our adapter. So if you own a pair of 165mm SEBA / FR skates = please contact us to find out if you will be able to use our frames with your skate.
This issue is related to FR / SEBA 165mm skates ONLY. We did test our adapters on FR1 skates (and they did fit M8), Rollerblade skates, OXELO skates, MICRO skates. Flying eagle should also be fine.

And: whatever you choose… keep rockin!