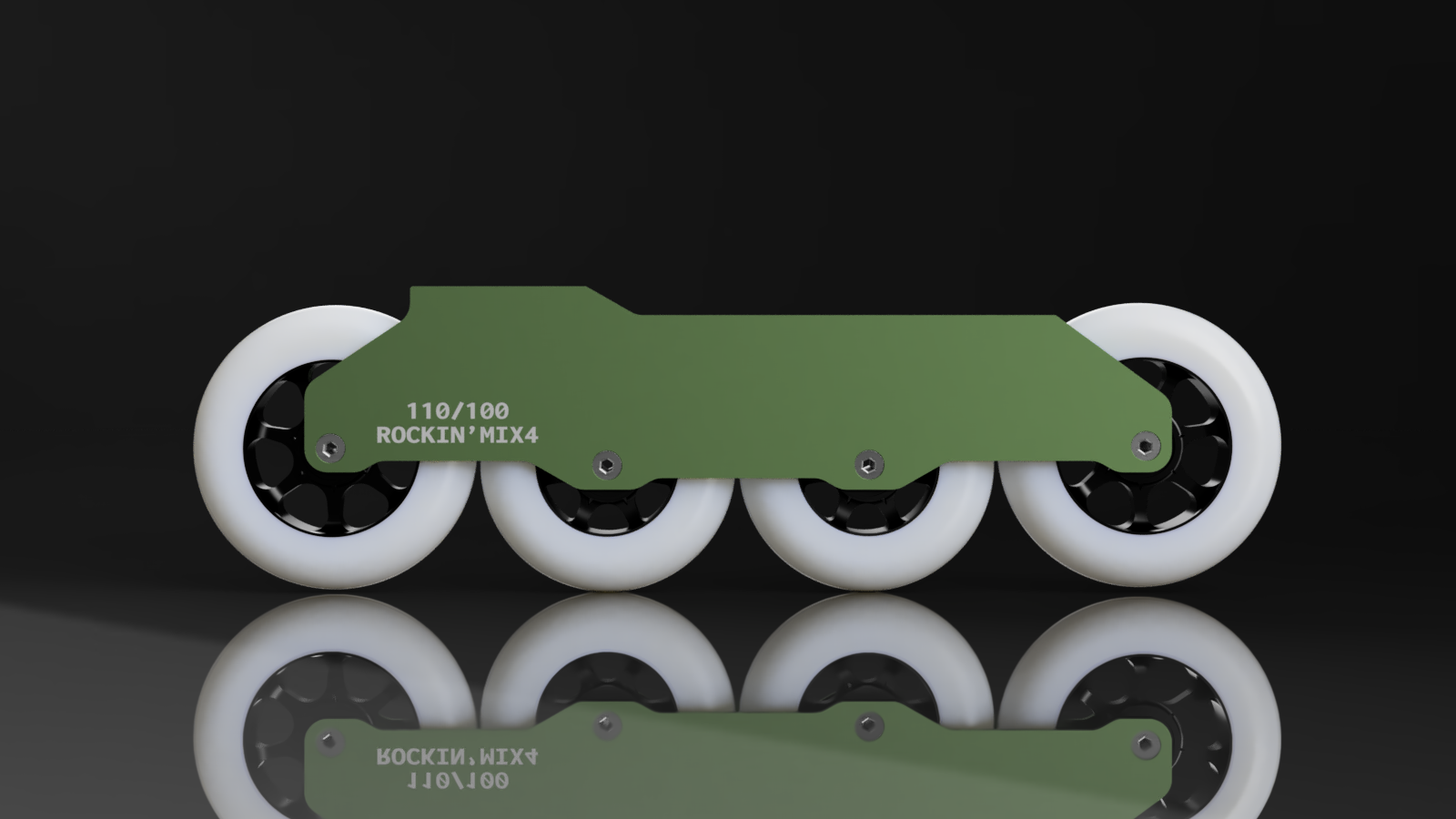 Hello bladers and bladies!
We have been getting many questions about our newest MIX4 100/90 frame and we would like to answer them here.
If you are still not aware what MIX4 100/90 is, here it is, our newest and first 165mm frame: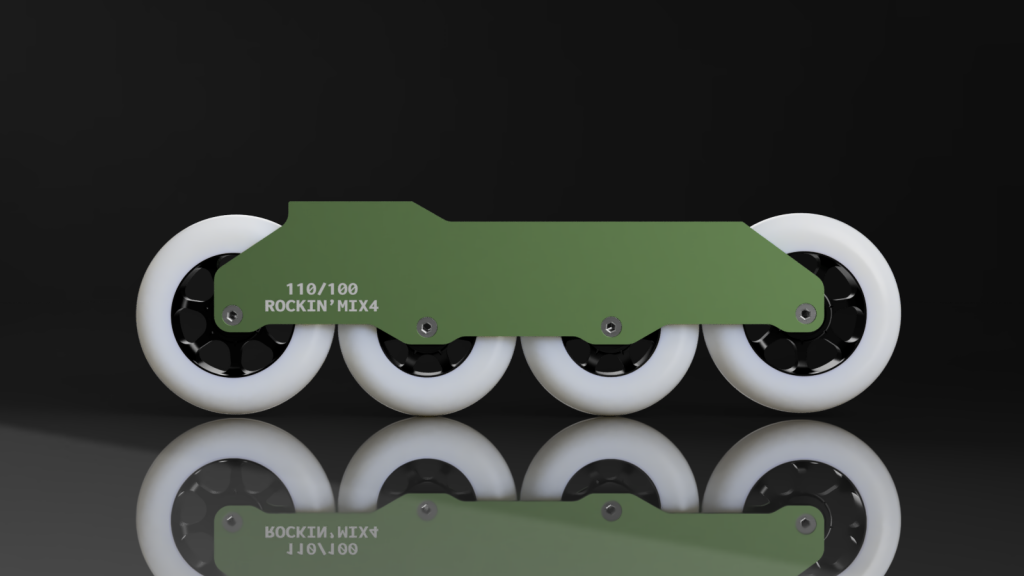 What's MIX4 100/90?
MIX stands for mixed wheel sizes used simultaneously within the frame, 4 stands for 4 wheels / frame, 100/90 stands for 100mm and 90mm wheel diameters. Not to be confused with frame where one can use either 4×100 or 4×90. It holds 2×100 on the outside positions and 2×90 in the middle at the same time (100-90-90-100).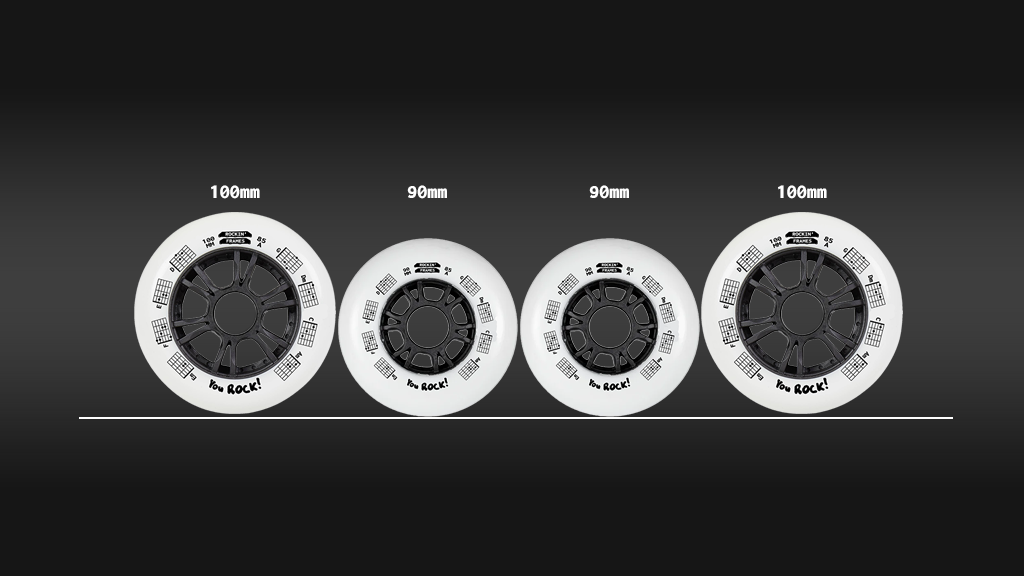 So what's behind that unusual setup?
Well, first of all the idea of making a mixed rockered 100/90mm (100-90-90-100) frame came to us at the end of 2020. We were talking to friends and some of them noted that 4×90 rockered frames felt too short for them and 4×100 frames were too long and too high, and there was no in-between setup to get the perfect feeling. Well, now there is.

Basically, this rockered (100-90-90-100) frame is exactly what we say it is: it provides a stance that is lower than 4×100, is longer than 4×90 and shorter than 4×100. It also takes much more from both 4×90 and 4×100.
The 165mm boot design of most brands allowed us to position the bigger wheels on the outside of the frame and above it thus minimizing the distance from the boot to the wheel.
Here is where you can see it clearly: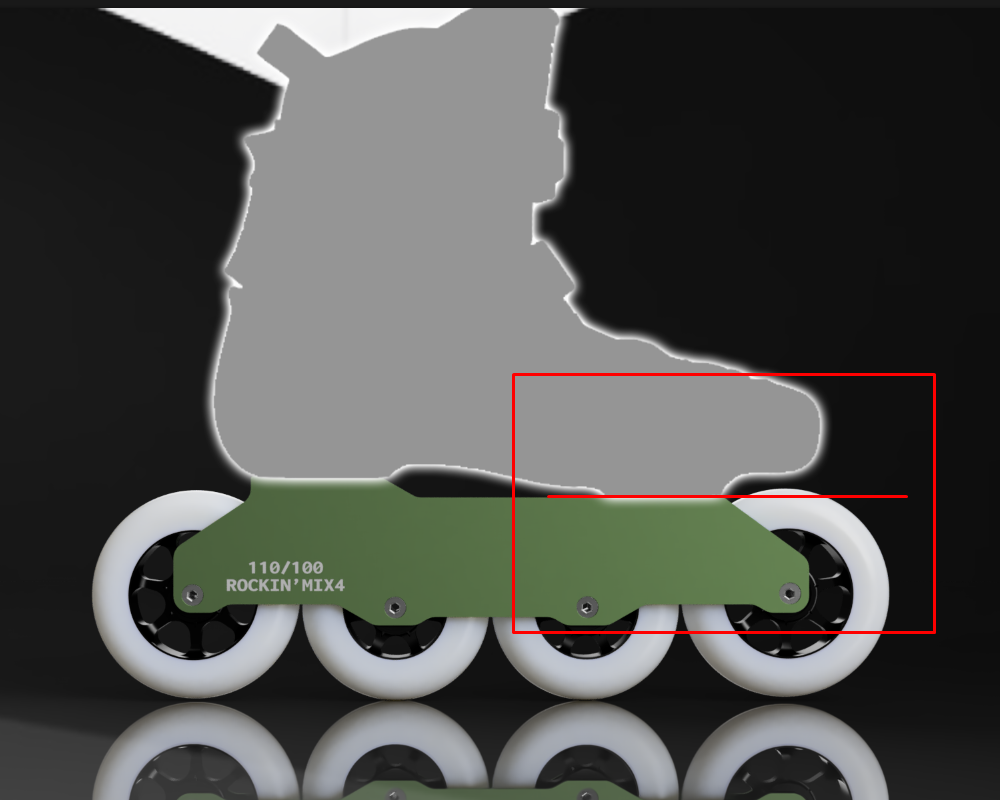 What's the benefit of minimal distance?
Simply put: more control over your moves.
Are there other benefits? Yes. Bigger wheels allow for a smoother ride and for higher maximum speed.
What else? For regular setups, whether they be flat or rockered, outer wheels wear down more quickly than middle ones which builds a natural rocker over time in case of flat setups and increases the rocker in case of pre-rockered ones. Putting bigger wheels on the outside makes the wheel wear more even and that allows the frame to maintain the initial rocker for a longer period of time. We still suggest rotating your wheels "on place".


What about rocker on this one?
Because of the specifics of a mixed setup we tweaked our usual rocker and made it a tiny bit more pronounced. I won't go into too much technical detail on this, so as not to make the post too nerdy.


What about the mounting holes and boot/frame positioning?
We are aware that some frames on the market have this issue where the boots from some manufacturers end up either too far back or too far in front and never center. The good news for us is: the MIX4 100/90 and also our future 165mm models (if any) won't have the problem where the frame is either too far back or too far in front. This frame has been tested on multiple boots from different manufacturers (OXELO, Rollerblade, FR, MICRO).
What about speed and agility?
This frame rides on 4×100 setup's speed. This frame is fast. As for agility: something between slightly rockered 4×90 and 4×100 frames with more tendency to be more like 4×90.
Any other pros?
Yeah, maybe. Shorter length of MIX4 100/90 compared to 4×100 (less material used) and the 2x90mm + 2x100m wheels are lighter than 4×100 are. So the frame is lighter. Reduced weight it is compared to 4×100 and yeah, a bit extra weight added compared to 4×90 setups. We honestly believe that this frame will become the new standard of freeskating.
What about the frame design?
We have done our best to keep our signature design (which you either love or hate) for the 165mm frame, so the resemblance to our UFS frames should be quite obvious.
Is is fun to skate? Does it rock?
Oh hell yeah it does! And yes, it is fun to skate 🙂
Recommended boot size for that frame?
Recommended for best use with skate size from 245mm and up to 280mm.
In other words: EU38-EU45 / US6-US11 / UK5.5-UK11
Availability?
UPDATE: 20.05.2022: Frame is in stock and ready for shipping.
I hope I have answered most of your questions. If something is not clear or if I have missed something that you would like to know, feel free to contact us using our contact form or messaging us on Instagram or Facebook.
Have a nice time and keep rockin'!
Jevgeny